27 Sep 2012 - 05:08:11 pm
SELLING CERVANTES
So this bloke walks into a publisher's office. You've lost an arm and you've been kidnapped by pirates, the publisher says. Yes, the author replies. You've been in jail for debt. True. Right, says the publisher, you're going to talk about how it is to lose the arm and your time in jail, the anguish, that sort of thing. What about my book? asks the author. What book? says the publisher.
Are things quite like that? Of course not. At least not entirely. But there is no doubt that survival-lit of one kind or other is big business. Or having survival some where in one's back-pack of news-sexy tools. The author's confessional is at least as marketable as the tale he's trying to sell. One hand washes the other here. I find it disturbing. We are too often treated to the talk-show interview in which an artist of some sort or, worse, an utterly talentless 'celeb,' speaks of their 'struggle' with drugs, time in rehab, or the vicissitudes of an illness, only to end the interview by talking about their new show, book tour, CD, or exhibition. It is difficult indeed not to tie the personal to the promotional here. 
At the same time we have absurd ructions almost everywhere about privacy. It strikes me that notions of privacy in today's tell-all world are selective. I cannot imagine, say, with the greatest respect, Sir Cliff Richard, the late V.S.Pritchett, Brian Moore or T.S.Eliot using the state of his emotional health on a talk-show as a lead-up to promoting a new album or a collection of poems or stories. So who decides to use personal pain as a promotional tool - the author, the celeb, or the marketing machine? 
It used to be that an artist survived, in the real sense, on the merits of his or her work only. Their private lives and personal problems were the juice poured over the meat of biographies. And usually when they had passed on. People in general were private individuals. Whether they had slept with a soccer player or fought a serious or not-so-serious illness was nobody's damned business. 
When I was a child, I had heroes. Sir Edmund Hilary, who conquered Everest, was one. Here was a not-particularly photogenic man who had risked his life along with Tenzing Norgay to climb to the summit of the highest mountain on earth. He had the requisite courage and moral character to do so. These were things admirable among the majority of people. The media were not interested in his personal life, only in his achievements. Now heroes are created out of young and foolish rock singers who perish from alcohol or drug abuse. They are set up, God help us, as role models. Photos appears in every junk publication possible showing a pretty young thing leaving her umpteenth treatment for anorexia or alcohol dependency. Are we supposed to gloat or feel sorry for her? The media machine doesn't care. Her private life, it seems, is part of the loosely-wrapped package of her, eh, celebrity. She is, bluntly, worth more to the paparazzi and tabloid editors ill and troubled than in rude good health. Then a ghost-written autobiography may appear, spurred on by the promotional machine that wants to make money - how does one have a life to autobiographise at the age of twenty or so? 
Yes, it is all a component of cultural dumbing-down. But perhaps it is something more. There are no more mountains left unconquered and it is not politically correct in some quarters to consider soldiers as heroes. Without the traditional heroes we climb down a step and try to create heroes out of people who have conquered something within themselves; who, in other more private times, would simply have been regarded as 'getting on with it.' Consider the women of The Blitz, who lost husbands, lovers and children and never made the covers of a magazine. They 'got on with it.' No one gets on with it anymore. Everyone becomes a survivor. Everyone has a story to tell, a personal mountain vanquised - and there's a publicity suit out there somewhere all too ready to make mileage out of it, a TV company with thirty minutes to spare. (On this last head, we even have a TV series now devoted to individuals who have allegedly broken the law in other countries and got banged up abroad - weirdly, the series treats them as survivors, not as alleged, and in some cases indicted, felons.) 
Charles Darwin suffered from severe hypochondria all his life. You won't see any mention of this in his little book. Erwin Eugen Rommel, 'The Desert Fox,' threw up violently before every battle; it didn't make the papers and he is not remembered for his anxiety. Nelson had one eye and one arm; he is remembered chiefly for some luck he had at sea. Consider French Admiral de Brueys who, at the Battle of the Nile, lost both legs but 'got on with it' by being placed in a barrel of meal so that he could continue his command without bleeding to death (he doesn't count, perhaps, because unsurprisingly he didn't 'survive.') Sir Laurence Olivier, like Rommel, threw up violently with nerves before every performance. He too 'got on with it.' 
If we're in the artist or celeb game, it seems amost important that we don't 'get on with it,' that we expose ourselves to the public, warts and all. We have no secrets then, demand no privacy. We are sales-people and the product, ultimately, is ourselves. We've lost something, it seems to me. Is it simple dignity? I won't judge. But I will conclude by saying that it is absolutely right that a young lady who is possibly a future Queen of England should go after anyone trying to make money out of her private self. If I were being interviewed about a new collection of poems and the reviewer asked me about some personal and private aspect of my life - including my health or my relationships - I would feel justified in replying by requesting that he fuck himself. It's not his business, not yours either. The work stands or falls on its own merits. Not on my personal and private ability to, eh, 'survive.' 
Some of you may recognise the author I have fictionalised into my opening account of an interview with a prospective publisher. He is, of course, Miguel de Cervantes Saavedra, his book was, in English,
Don Quixote.
Cervantes lost an arm at the battle of Lepanto, was seized by Moorish pirates, flung into prison for debt, and no doubt had his dark days. In fact he wrote his book, most of it in Old Spanish, in nick. "Tell the audience," says the interviewer, "What did you feel when you woke up and you'd lost an arm. Or did you just get on with it?"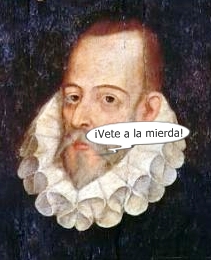 Miguel responded most vigorously to questions about his personal life . . . .